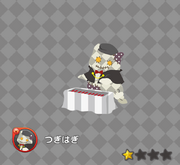 Tsugihagi is the keyboardist of the band, Shinimonogurui.
Personality
Edit
He is mostly reserved and shy and also lacks self confidence.
Appearance
Edit
He is a scrap cloth monster myumon. As the name implies, he is made of mostly grey and white checkered pieces of cloth. His eyes are yellow which are sewn onto his face as well as his mouth. His out fit consists of a black cloak with a red bowtie and he dons a black beret. In the Anime, he has been shown to have green hair.
When he gets nervous, cotton falls out of his body.
Lint rollers are considered his enemy.
He makes cameos in the anime in episode 07, episode 11 and episode 12.
Ad blocker interference detected!
Wikia is a free-to-use site that makes money from advertising. We have a modified experience for viewers using ad blockers

Wikia is not accessible if you've made further modifications. Remove the custom ad blocker rule(s) and the page will load as expected.