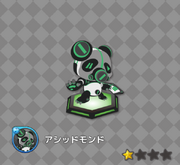 Acidmond is the keyboardist of the band, Rapezziauto.
Personality
Edit
He is a mysterious person with a love of nature.
Appearance
Edit
He is a cyber panda Myuumon with light green stripes covering most parts of his body giving him a techno look. He wears a mask similar to a panda's face but also designed with features similar to buttons found on music players. Since he wears this mask, it is unknown what his face actually looks like.
His mask kind of smells like grass (like bamboo).